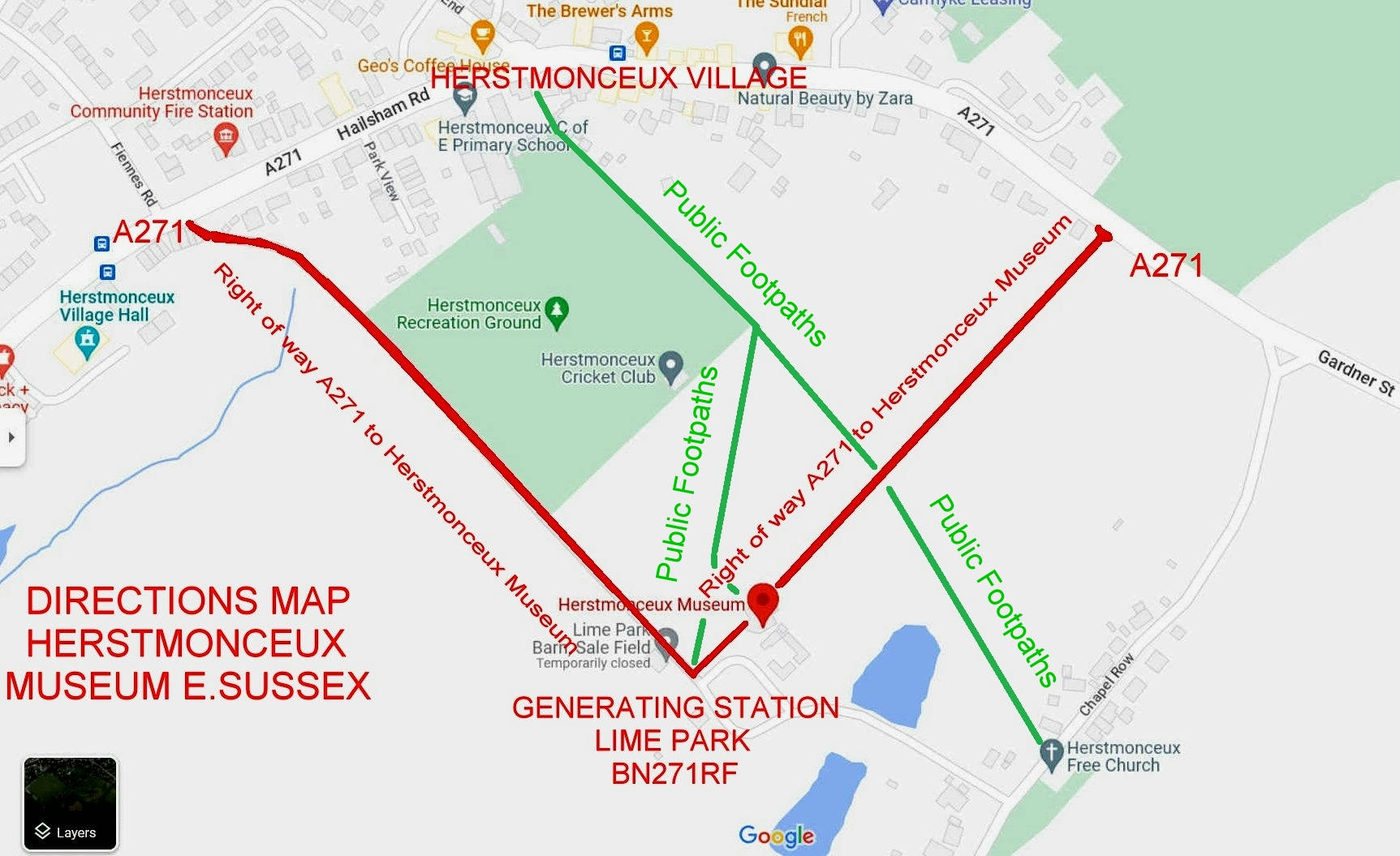 These are the bests ways to get to Herstmonceux Museum, by using one of the two rights of way shown in RED, coming from the village - Hailsham Road, and Gardner Street. Parking is available at the Recreation Ground, and in the village behind Geo's Coffee House. There is also a public footpath network for country lovers.
HOW TO FIND US & WHERE TO PARK
Herstmonceux is not the easiest destination in the south of England to access. The coordinates for your GPS are: 50.887080147030346, 0.3267874730009073. Or just use the postcode: BN271RF.
The village is served by the A271, running from the Boship Roundabout, heading east, to Hastings, most unfortunately, this is a less than satisfactory carriageway in the round, that meanders, is narrow, with roadworks almost every year in the village high street - for which we apologise in advance. We are hoping the situation might be improved via the local authority and East Sussex County Council's, Community Infrastructure funding schemes. All in the fullness of time.
Fortunately, Herstmonceux Museum is served by three routes from the village. Two of which are public highways, and the third a right of way via Lime Cross, specifically and only to access the Generating Works. These are ideal for visitors to the heritage asset.
| | |
| --- | --- |
| | |
| From Herstmonceux Cricket Club to the Museum in Lime Park, is just a couple of minutes stroll, typically in pleasant summery conditions. Thus good exercise, or as John Wayne might have said in "The Quiet Man," just a stretch of the leg. Hence, only opening between May and August, when the grass is less likely to be damp. | From Herstmonceux Village Hall, it is possible to gain access to Herstmonceux Museum via this route, but the access in not suitable, for coaches and larger parties of visitors. Visits by archaeological researches and staff are permissible. This map is provided to help you see the lay of the land. |
| | |
| From the Museum, to the Observatory and Science Centre, via Wartling Road, to Boreham Street (A217) to Lime Park | From Drusillas Zoo Park, via tge A21 to Polegate, then the A22 to Knockhatch, and A271 to Lime Park, Herstmonceux |
There are other interesting local venues, landmarks such as the Castle on Wartling Road, past the Tennis Academy, Observatory Science Centre, based in the Castle, the Post Mill at Windmill Hill, and Battle Abbey 1066 Country. For naturalists, there are the Pevensey Levels, a Site of Special Scientific Interest (SSSI) with RAMSAR wetlands convention protection, famous for Lapwings and Raft Fen spiders.
There are other reasonably close - "fun" - attractions for families, like Drusillas Zoo Park, and Knockhatch Adventure Park.
Culture vultures and schools might like to plan a visit around the Post Mill and Herstmonceux Castle, all within easy reach, for a full, or very full day's outing.
Supervised school outings are welcome.
There will be more information provided on this page for the 2024 season. Thank you for your patronage and patience.