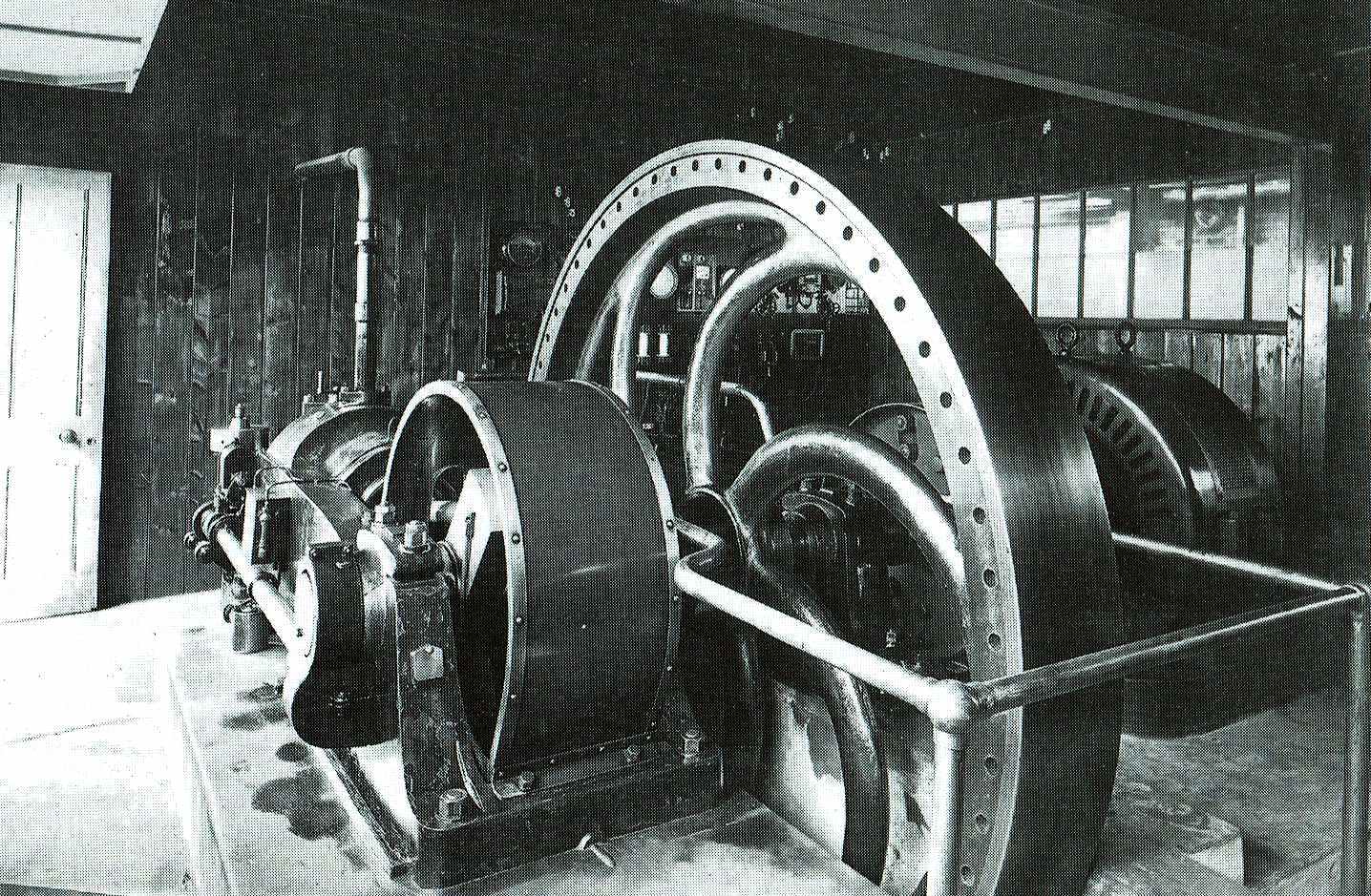 It was either fated, or the most incredible set of coincidences, that brought the Generating Station's savoir together. For sure, without him, the proud new owner in 1981, had it in mind to demolish what they saw as a liability. That was until he was running short of change, and wanted to secure the skills of his best decorator & handyman.
What at first seems like an impossible goal, might, if taken in smaller phased stages, become a reality. The ultimate objective is to restore the buildings to as near as possible, the original state in 1936, before electricity generation and battery power storage ceased. For that, we'd need a Business Plan, sufficiently well thought out, to be achievable, as a long term aim. That we present here in draft form only, to be adjusted flexibly, as archaeological input dictates, both local, national and international.
It is thought that a suitable plan, may help the Trust to attract limited investment from the UK and, potentially, even from UNESCO, as we proceed with our development plans. This may include philanthropic contributions. We are already indebted to our volunteers and trustees, for giving freely of their time.
It is likely to be many years before the ultimate aim of displacing any existing uses and attractions, to enable the Trust completely rework the buildings, so as to eventually be able to reinstate a National (or similar) gas engine, and any machinery and associated equipment. For example, there was ice making equipment and an ice well on the site, that together with the export of vegetables and electricity, ice would have been another product for export. Realistically, the Trust is allowing something like 10-15 years to complete the proposed four phases. But this may be longer than allowed for, when it comes to exacting UK and UNESCO standards.
The suggested 'Phases' will be developed (hopefully) with the full cooperation of local and national government, and suggestions therefrom. All contributions, proposals and counter submissions gratefully accepted.
PHASE ONE: 2-3 YEARS >> 2023-2026
The first stage, is to open the doors to the public in 2024, for the allotted number of days, to be able to attain accredited Museum status & put Herstmonceux Museum on the map.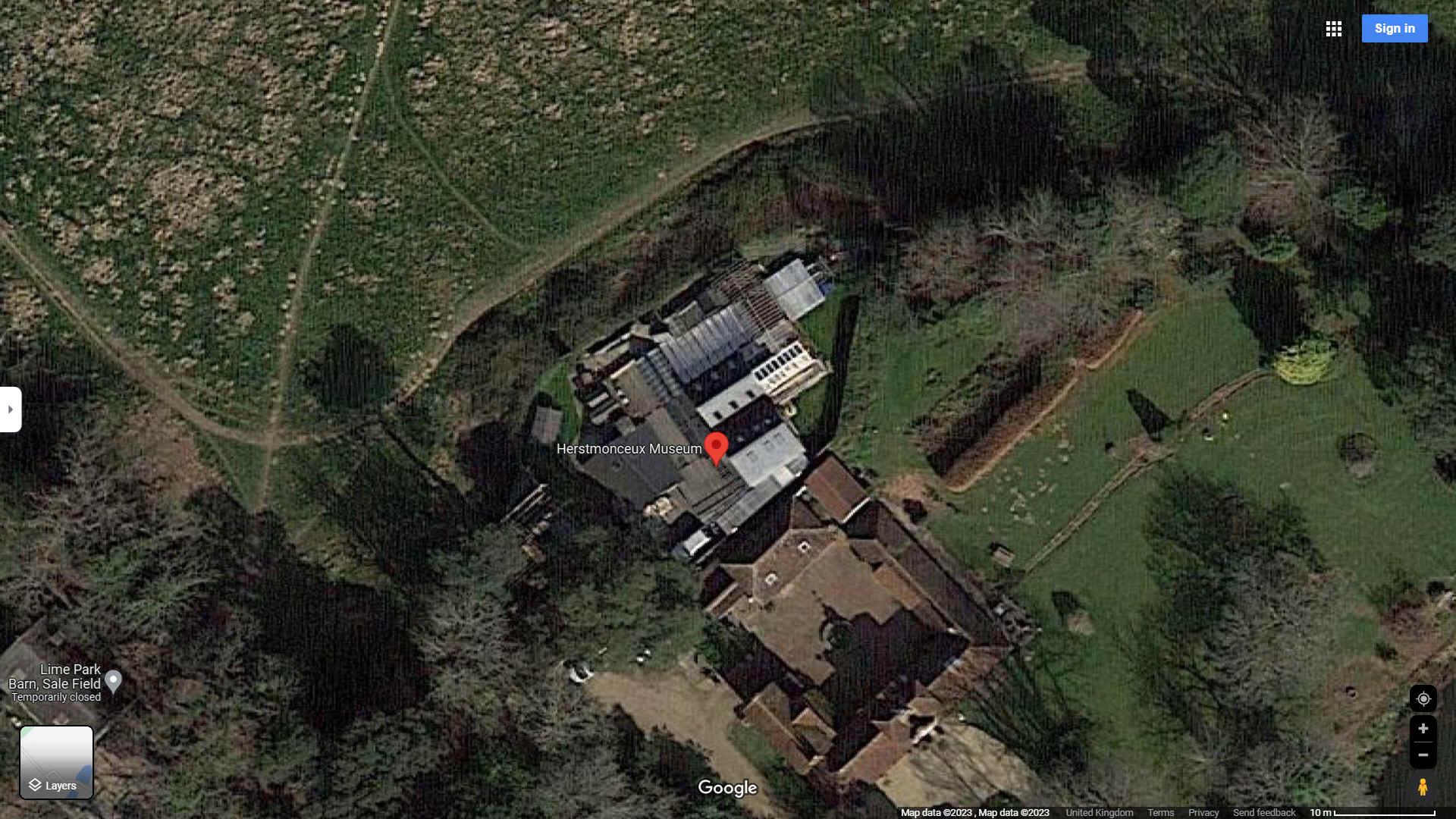 EMINENTLY RECOVERABLE - An aerial view of Herstmonceux Museum in 2022, showing the public footpaths north of the generating buildings. Many of which are unregistered, but well trodden for over forty years, from our records.
PHASE TWO: 2-4 YEARS >> 2026-2030
With accredited status, the Trust/Museum to benefit from temporary consents in support of fledgling heritage enterprise. This may include temporary short-term holiday lets, such as AirBnB. Museum to fireproof original woodworks. With installation of cooling devices and sprinkler system.

Historic buildings need uses, for their owners/occupiers to be able to transcend, from trading to grading.
PHASE THREE: 2-5 YEARS >> 2030-2035
- Car parking and improvements to access routes
- Permanent security and maintenance staff and facilities
- Replacement/displacement premises
- Proposal for or inclusion on tentative list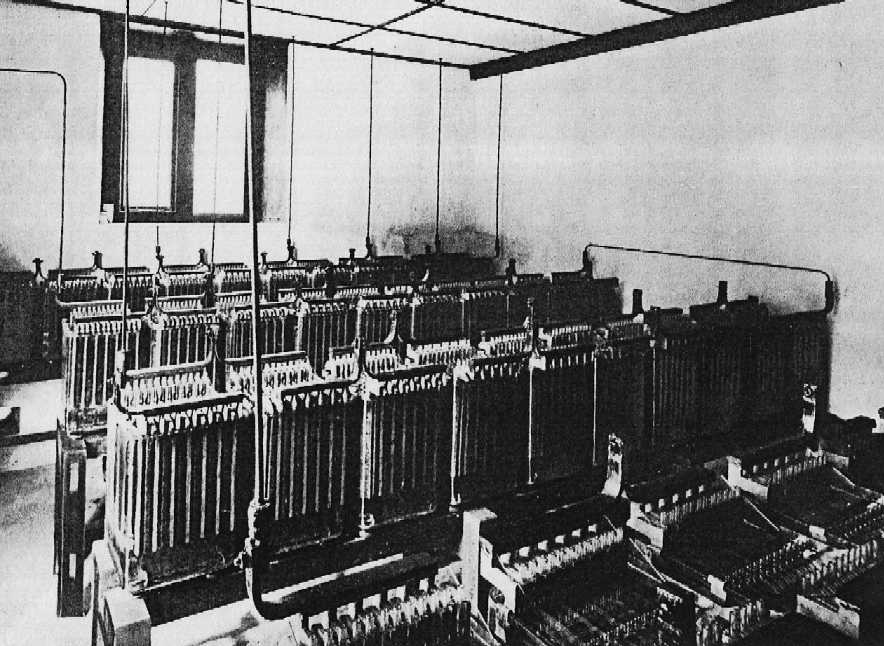 Lead-acid batteries in banks, were mounted on glass insulators, in rooms like that above. The idea being to store large amounts of energy.
PHASE FOUR: 2-5 YEARS >> 2035-2040
Replace authentic partitions, with reconstruction Shed 3. All large exhibits to be re-housed. All supporting activities, to be re-positioned sympathetically. Reinstallation of National engine, with VR experience, if and as appropriate, & lobby + negotiate for tentative World Heritage inclusion as a technology showcase for the electrical generating, storage and distribution industry.
CHAPTERS
CHARACTERS
| | |
| --- | --- |
| | Sewing machine engineer |
| Casper Johnson | County Archaeologist ESCC |
| Clare Askaroff (nee Martin) | Wife of Nikolia |
| | County Archaeologist ESCC 1999 |
| Greg Chuter | County Archaeologist ESCC |
| Igor Askaroff | Russian émigré |
| John Hopkinson | Electrical Engineer |
| | Inventor light bulb, UK |
| | Entrepreneur |
| Margaret Pollard (Peggy Green) | The chauffeur's daughter |
| Neil Griffin | County Archaeologist ESCC 2023 |
| | MD Simplantex, deal maker |
| Ron Martin | Sussex Industrial Archaeology Society |
| | The engineer's son |
| Rosemarie Violet Twentyman-Turnbull (Askaroff) | Austrian seamstress |
| | Inventor, light bulb USA |
| Victor James | Amateur archaeologist, handyman |
There were many other contributors. If you know of any information that may help us complete this story, please get in touch.