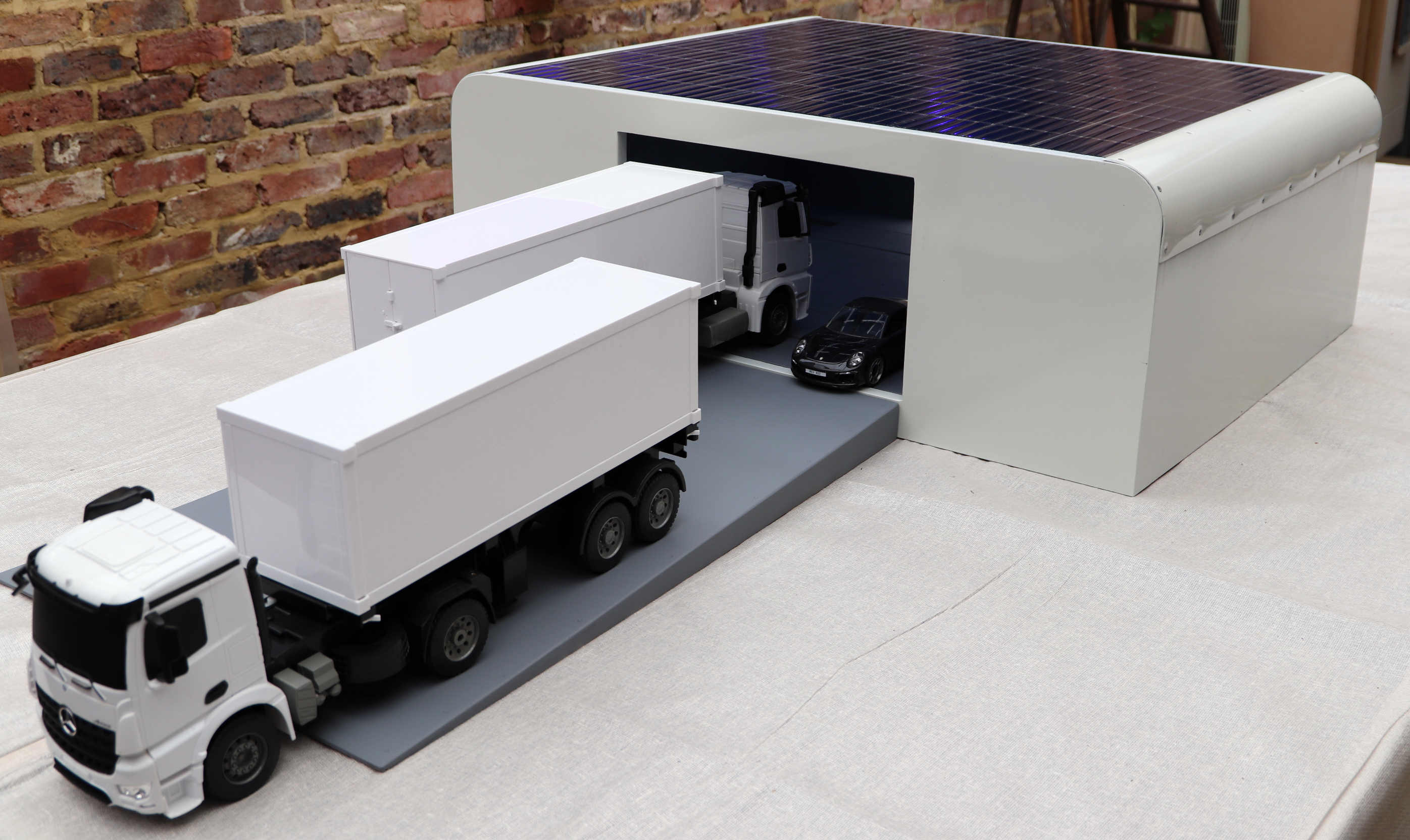 FLATPACKS - With 600,000 service stations to replace worldwide, if we are to see total transport electrification, flat packed buildings offers a way of speeding up delivery. They could be provided on a turn-key basis to owner-operators, or branded and franchised by energy companies. This design could act as a hydrogen energy store, to feed electricity back to the grid, when it is needed, in addition to refueling HGVs automatically. This unit was conceptualized by a welder-fabricator, with experience of building large structures, and factory automation in the 1990s. Despite the introduction of the Automated and Electric Vehicles Act of 2018, there is nothing like this today in 2023. And with targets being pushed back, we are unlikely to see anything like it before 2040-50. Petrol and diesel vehicles will still be on sale in the UK until 2035.
Not directly connected with the generating history of Herstmonceux Museum, but flowing therefrom, more as a consequence of the development of the National Grid, and proposals to store off peak power in batteries and as hydrogen for fuel cells.
SMARTNET SERVICE STATION CONCEPT
From 2021 onwards, until about 2022, a one twentieth scale model of a SmartNet™ multi-fuel service station was constructed in the garage at the Generating Works. The aim being to demonstrate that stored energy cartridges might absorb excess solar and wind energy from the grid, off-peak, and provide that energy for Hydrogen Fuel Cell cars (FCEVs) and Battery Electric Vehicles (BEVs), and homes and factories, as and when required. During peak demand.
The concept is not fully developed, but visitors to the Museum can gain an idea of how the system works. When future electrical storage and National Grid engineers, might reference the design, and apply in forward developments as appropriate. It was Jules Verne who predicted that hydrogen would be the fuel of the future. Who knows, one day that could be a possibility.
Note: the Tesla system shown in the video below, by way of example (nice one Mr Musk) is not compatible with hydrogen fuel cells, though could quite easily be adapted. The general idea of the Tesla system, is similar to, and presumably developed from Shai Agassi's 'Better Place' battery swap stations from 2013, as per the filed patents relating to Better Place. Tesla did not push ahead with their system, instead equipping their vehicles with larger and heavier batteries. Making EVs following this trend, harmful to roads, as they accelerate a greater mass - according to media reports.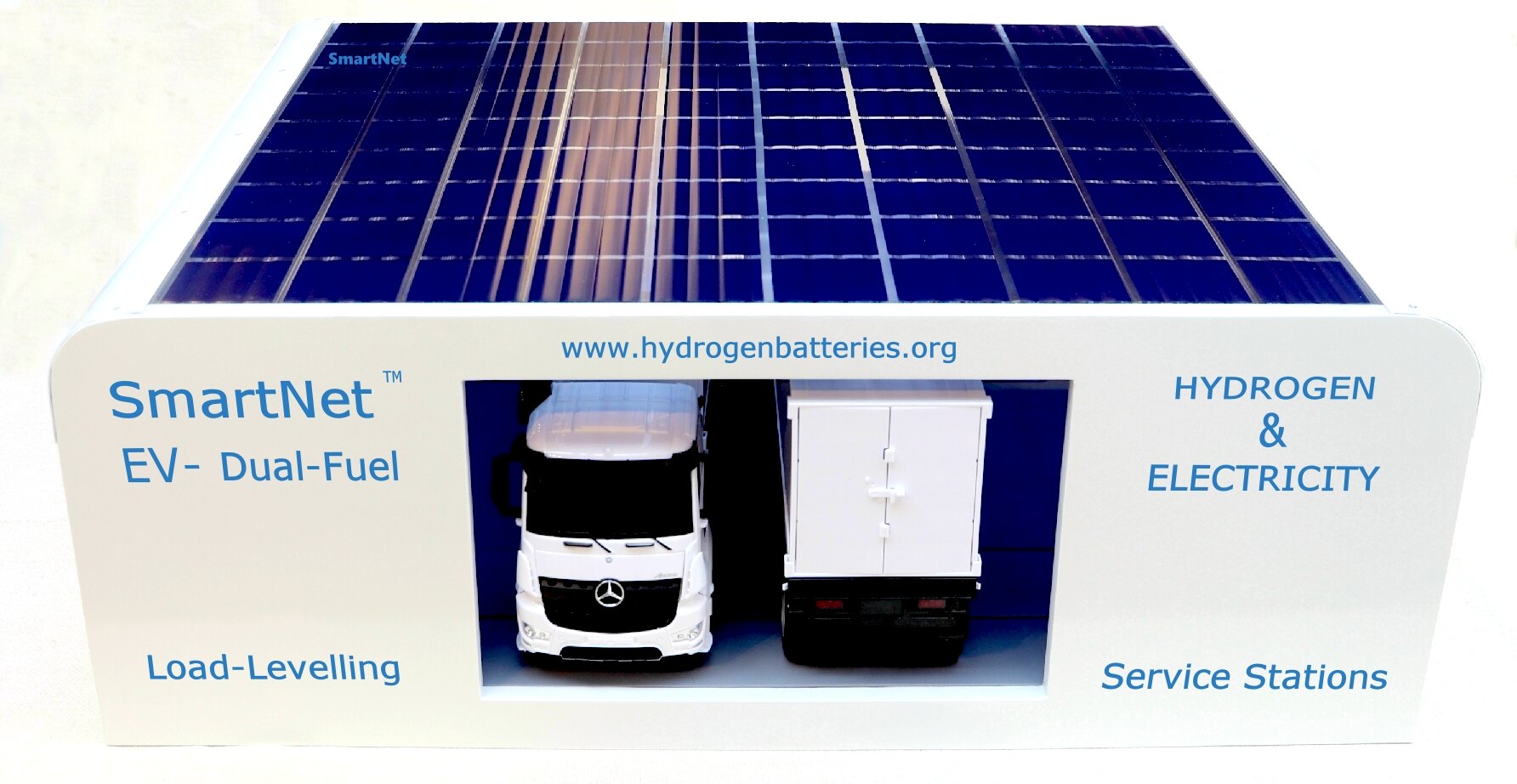 1:20 SCALE - The world's first multi-fuel service station concept, is on permanent display at Herstmonceux Museum, in East Sussex. Nothing like this exists on the market in 2023, though, and the reason the Generating Station is so technologically important, is that giant battery stores are currently being installed throughout the world. With this system the energy cartridges in the service station and on the road in cars and trucks, constitute the energy buffer, rather then stationary (fixed) giant lithium batteries.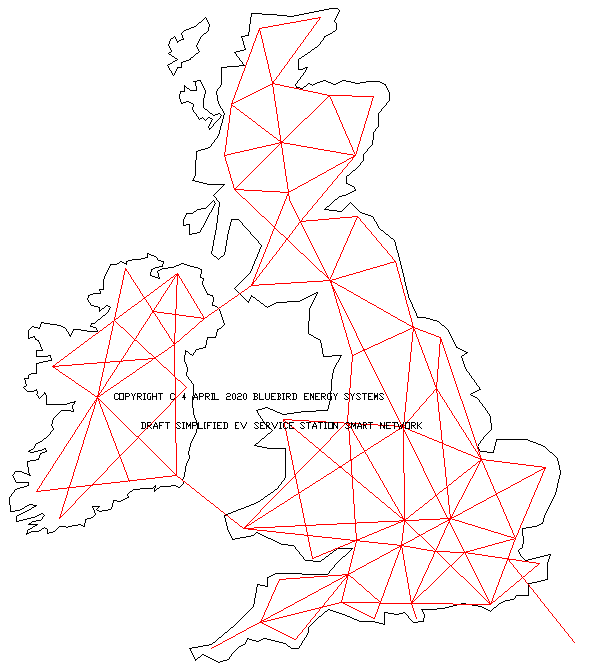 UK MAP - Draft infrastructure study, a networked grid for the UK to kick-start EV service station building, aiming for a low carbon society that is sustainable and climate friendly by 2050 to comply with the targets set by the Climate Change Act 2008. This map is simplified and includes the Republic of Ireland for practical reasons. Supplied by and used with permission of Bluebird Energy Systems. This simplified map use just the intersections as likely locations that would mean installing 60+ stations, that could provide more than the 14,000 charge points in the UK, proposed in January of 2018, and April of 2020. Another 1,800 such stations at strategic locations could service all 25,000,000 million vehicles in the United Kingdom. Optimistic, but you have to start somewhere when conceptualizing. The UK currently (2023) only has 14 hydrogen refueling points.
The SmartNet system differs, in using lighter energy cartridges, with very fast exchange (recharge) times of just a couple of minutes. Thus making recharging a less arduous task, that does not drain the Grid, with offset energy storage, and Pay As You Drive (PAYD) battery servicing. Making EVs affordable.
This proposal is unlikely to be adopted, unless statutory requirements are introduced, CARB style (California Air Resources Board). To force makers to provide an economy EV or Fuel Cell trucks, and lighter cars, to stem the damage heavier vehicles are known to be causing to Europe's already strained road networks.
There are several innovative vehicles and vessels on permanent display at Herstmonceux Museum, including:
1. Art Gallery - Collection of paintings, pictures, graphics, sculptures, wooden carvings & exotic glassware
2. Archives - Historic documents library, patents, trademarks, copyright, films, catalogued legal papers & letters
3. An Edwardian ice well, throwback to the days before refrigeration
4. A large underground (condensation/cooling) and water storage chamber for ice making
5. The world's smallest water basin, test tank for model boats & ships to 1:20 scale
6. World's smallest wind tunnel, vehicle drag measuring instrument using electronic strain-gauges
7. Three PV boat models, Navigator, SWATH & 2 cats + route map prior to Swiss PlanetSolar
8. Seavax, the ocean cleanup proof of concept prototype from 2016
9. AmphiMax, radio controlled (working) beach launching & recovery vehicle for SeaVax
10. Anthony the most dangerous giant Australian bulldog ant, 300 times normal size
11. EV - FCEV refueling station model in 1:20 scale
12. The only working (fully functional) water well in Herstmonceux village
12. The only working (fully functional) water well in Herstmonceux village
14. Second World War, 'Anderson Inspired,' bomb proof shelter constructed by Major Charles de Roemer
15. City sports FCEV-BEV, hydrogen gull wing proof of concept DC50 electric car
16. Land speed record car: Bluebird-Electric BE1 (original 1st) with battery cartridge exchange
17. Land speed record car: Bluebird-Electric BE2 (original 2nd) with cartridge exchange
18. A complete mummified squirrel, found when re-roofing the Museum June 2017
19. A fully operational, and restored VW Kombi van dating from 1978 (historic vehicle)
20. BMW i3, battery electric vehicle hybrid, with onboard generator range extender
21. Solar panel, sun tracking system, with battery storage
22. A hornet's nest found on site & preserved in 2016 (reported as [Asian] invasive species, to be safe)
23. Three sewing machines, including an antique Singer and a Brother industrial.
24. Adventure climbing frames for children (back to nature) Swiss Family Robinson