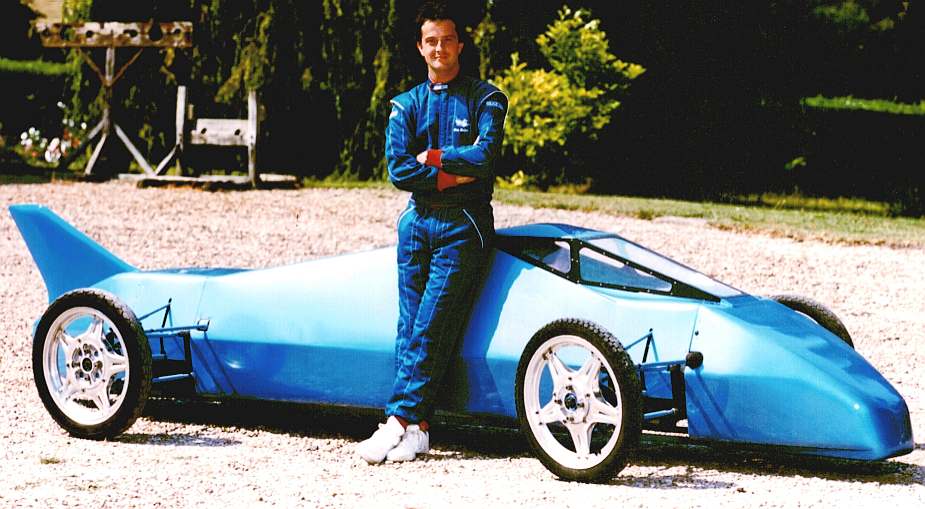 BE1 - This nice looking machine, is the original Bluebird-Electric 1, hand built at Herstmonceux and Filching Manor, near Wannock and Polegate, in Sussex. Don Wales is pictured standing beside the sleek machine outside Filching Manor, with kind permission of Paul and Greta Foulkes-Halbard. The tyres in this picture, were not the racing tyres used during test runs.
This vehicle was not directly connected with the generating history of Herstmonceux Museum, but was partly built in the workshops, and at also at workshops at Filching Manor Motor Museum, then, on return to Herstmonceux, the historic vehicle was fitted out with electric motors, batteries and controllers.
The car was incredibly light. Comprising a thin steel tube spaceframe, with a stressed aluminium skin. The steel frame could be lifted on one arm, as a convincing demonstration. Slender, all alloy, motorcycle wheels and racing tyres were used, pumped to high pressure to reduce rolling resistance. The drag coefficient (0.15) of the body and frontal area (under 7ft2) was also quite low, tested in a wind tunnel, against other designs. Further reducing the energy needed for each record run.
This vehicle was test run on the Polegate bypass before that road was officially opened to the public as a highway. The sleek streamliner, achieved a shade over 160mph unofficially, using four air cooled Lynch motors: giving around 80 horsepower for short duration; maybe more. As these units were slightly improved with water cooling, to give a higher output, without overheating. The run was not timed, and was not over a measured distance, relying on a speedometer, calibrated on ordinary road vehicles. Then recalibrated for the EV. Nevertheless, the BE1 proved to be fast enough, that with her full complement of Lynch pancake motors, as multiples of 8 or up to 16 units (160-320 horsepower), it is thought that the vehicle could have taken the world record with considerable ease, standing at that time, at a little over 180mph. Even using nickel-cadmium batteries, with all their quirks.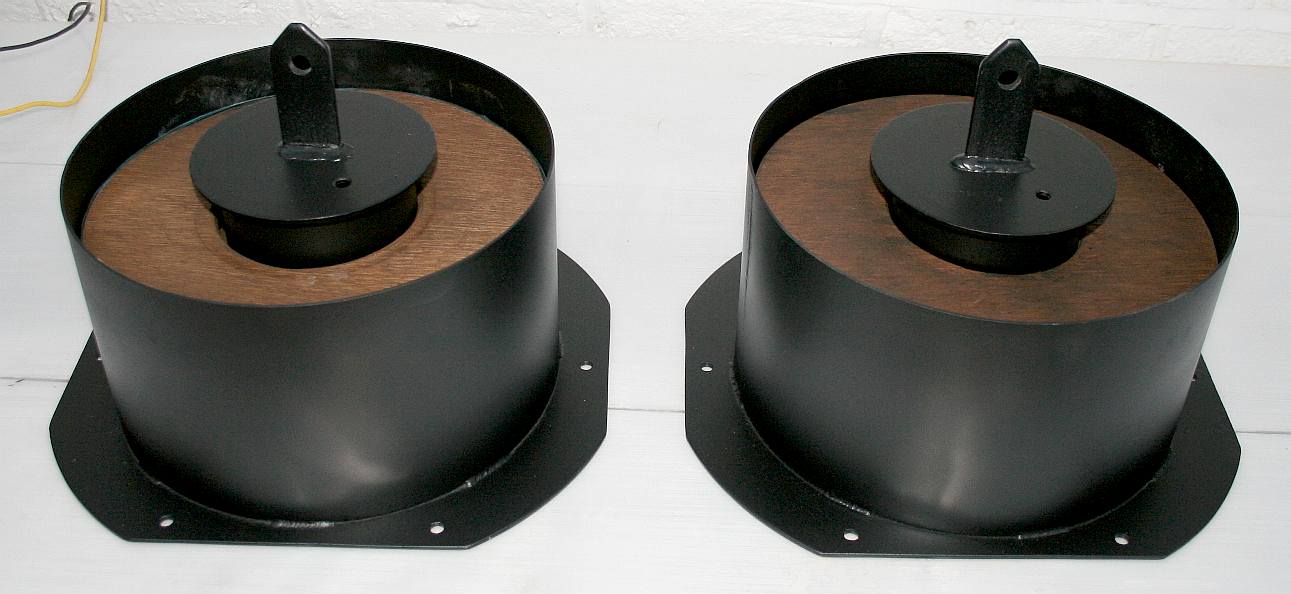 BE1 - Energy cartridge lifting and lowering servos. These bolted into, and were part of the structural design. One at each end of the vehicle, directly over each axle, to spread the load more effectively, so as to reduce the weight of the vehicle, and thus the energy needed to propel it. This British innovation is an important part of Land Speed Record history. The BE1 is thus a historic vehicle of some significance.
CARTRIDGE SWAPPING AS REFUELLING
The main technical feature of this vehicle, is the energy cartridge exchange system, approved by the Federation International de la Automobile (FIA), as refuelling, and allowed in LSR rules.
WHY BOTHER WITH ADDITIONAL COMPLICATIONS?
Because, in 1991, when this vehicle (and allied recharging patent) were first conceived, batteries were quite heavy. Either rolled plate lead-acid, or nickel-cadmium. Lithium batteries did not exist at the time. Meaning, that most of the weight of a fast electric vehicle in 1991 - 1993, was the batteries. Now the problem with EVs, is range anxiety. Either way, instant recharging along these lines, potentially solves that predicament. Which was the whole point of the LSR project. It was to demonstrate low cost, rapid battery swapping. Where the vehicle supported itself. I.e., it did not need any massively expensive infrastructure, as in the present drive to install hundreds of thousands of plug-in fast charging points. Running on Pendine Sands (UK), or the Bonneville Salt Flats (USA), would have been a most agreeable demonstration of the technology in action.
A car such as this, that could swap batteries in a minute or two, would be very much lighter, hence faster, than a car that needed to carry the batteries for all three runs. The BE1 needing to carry only half the battery weight for each run. An undeniable advantage. A third of the weight of a traditional bolt in battery, if completing three runs.
Though, conventional rapid charging at either end of a course, could have reduced the battery mass, of a bolt in arrangement.
As part of the trick exchange system, a cartridge could be unloaded in 20 seconds, by simply depressurizing a specially designed pneumatic cylinder, designed as a structural component of the chassis. When the LSR would roll off the spent cartridge, over a fresh cartridge. The chassis being designed especially for this function. Then the onboard pneumatic ram would be charged, lifting and locking the energy cartridge into position, and in around 30 more seconds, the land speed record car was good for the next run. Total recharge time was thus a couple of minutes. With perhaps another minute or two to turn the vehicle around and point in the right direction.

BE1 - One of the energy (battery) cartridges, suspended from the lifting servos (simulating a lift cycle), as part of a static display, outside of the Bluebird-Electric 1 vehicle. Normally, when fitted inside the vehicle, the workings may not be seen. As part of an interactive exhibition, the mechanism could lift and lower the cartridge. Alternatively, the concept could be a VR display.
HYDROGEN FUEL CELLS
Interestingly, the battery energy cartridge could be swapped for a hydrogen fuel cell power pack. Partly the inspiration for the gullwing city-sports car, built by students very many years later, but using the same workshops in Herstmonceux.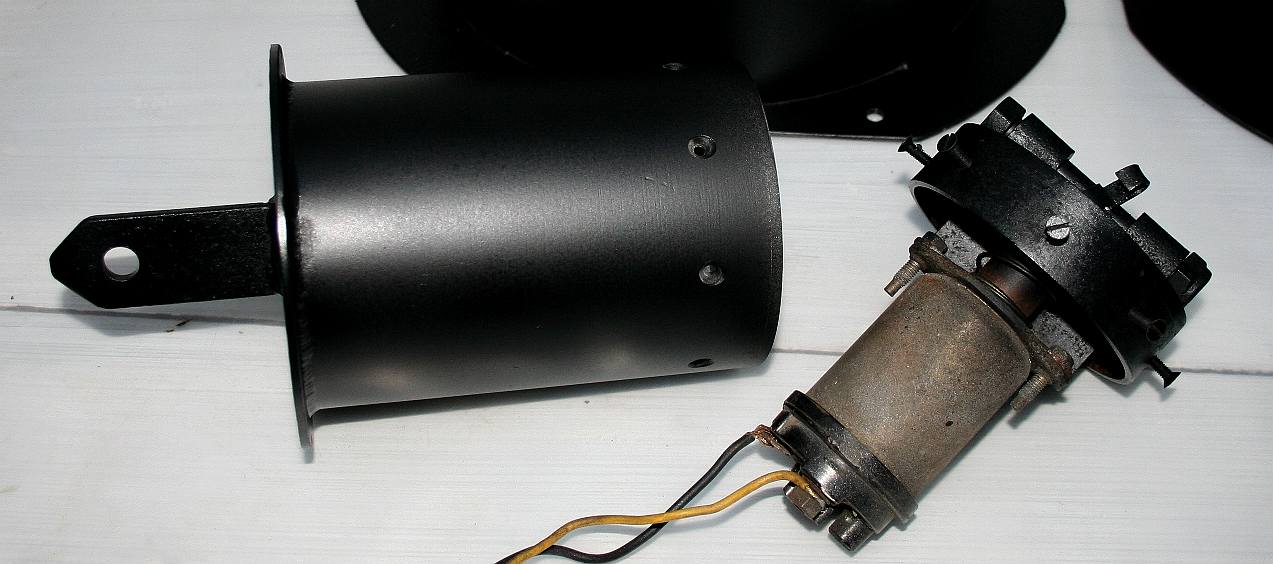 BE1 - The Bluebird-Electric 1, is the only land speed record car in the world, fitted with instant energy cartridge refueling. In the picture above, you can see the solenoid actuator, that is fitted inside of the power loading servo. The electrically operated, secondary actuator, swung the loading hook away during exchanges, then back again to lift the cartridge. While also making the electrical power connections. A safety pin was engaged during LSR runs, to prevent accidental lowering of an energy cartridge, during vehicle operation.
THE RULES
Official land speed record rules allowed the best of 3 runs in different directions, so long as they are within 60 minutes. With this very fast loading mechanism, the BE1 could make three runs without any problems. The FIA rules allowed a competitor to take the best two runs of three, and divide them by two, to give an average over a flying mile, or kilometer, in two directions. These rules were to eliminate downhill runs, and runs with the wind behind a vehicle. Running in the opposite direction within the hour, gave a fair average.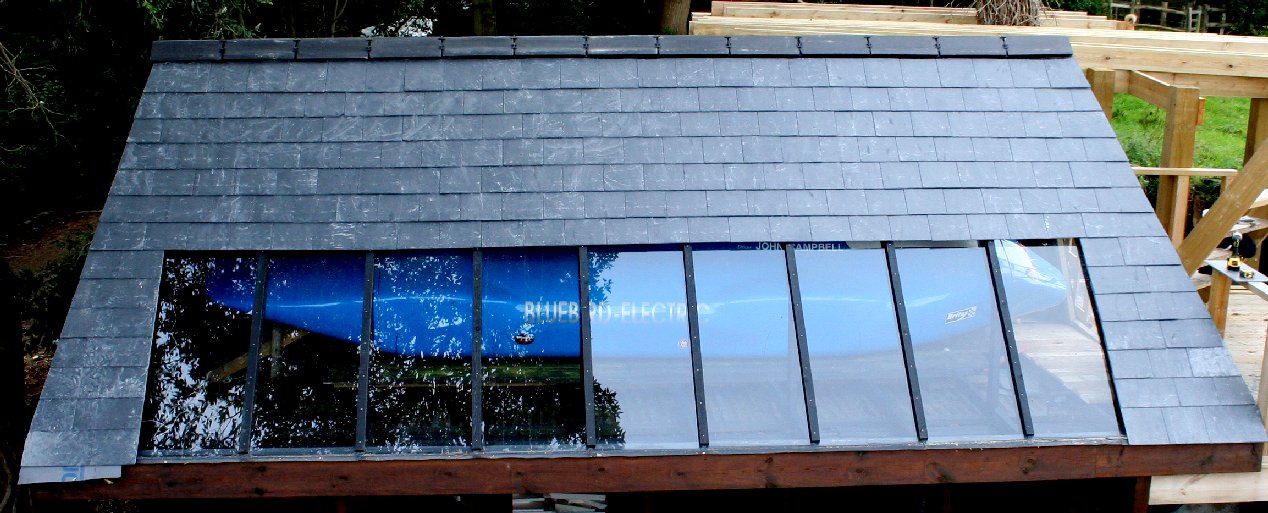 BE2 - The purpose built display case, part of the roof of an adjacent building, fitted with glass and lighting. The historic vehicle is an important part of Land Speed Record development. A fine example of British ingenuity. As the original, the BE1 is also featured in a glass case, built over and as part of the coal bunker reconstruction.
THE CAMPBELL CONNECTION
The car featured on Big Breakfast, with Keith Chegwin. It was driven by Sir Malcolm Campbell's grandson, Don Wales, on that occasion, and at another event at Olympia in London, before being retired in favour of a faster design; the BE2. If the then team, had continued with this design, it would have been driven at Pendine Sands in Wales, where it was on display, in association with Bluebird Holiday Homes.
Donald Campbell CBE, of Bluebird K7 fame, was Mr Wales's Uncle. Donald perished tragically at Lake Coniston, when his boat flipped spectacularly, at around 300mph. The Railton, Rolls-Royce Merlin V12 Bluebird, and CN7 (Campbell-Norris) jet powered Bluebird, were the inspiration for these electric vehicles.
Eventually, a more powerful, and fully enclosed design was on the cards, to reduce the drag even further.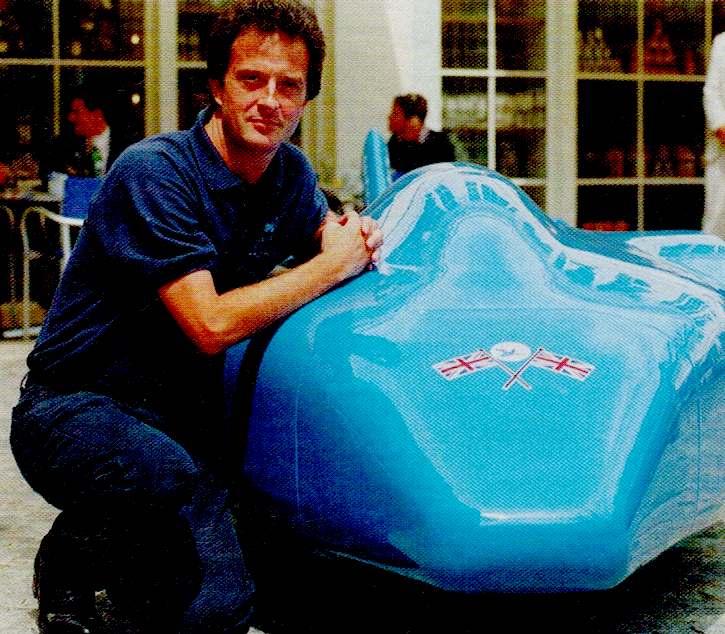 BE2 - Arguably, the most beautiful of electric land speed record cars, is the original Bluebird-Electric 2, hand built at Herstmonceux, in Sussex. Don Wales is pictured alongside the streamliner, at the Bluebird Store in London, during a public-relations, marketing photo-opportunity.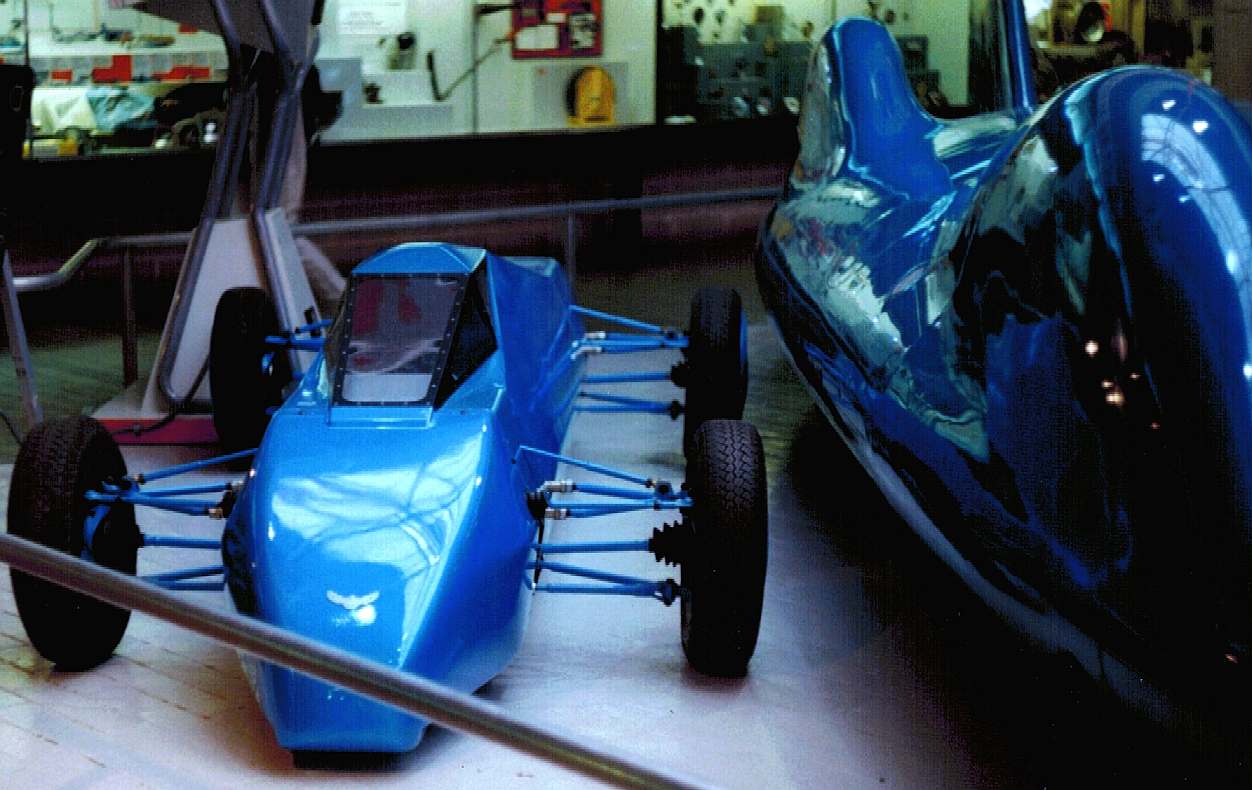 BE1 - The Bluebird-Electric 1, was first shown at Beaulieu, the National Motor Museum, with the kind permission of Lord Montagu. The car is seen here incomplete, on transit wheels, without her stabilising fin. The workshop was stillbusy on the car, it was all a bit of a rush, with the paint still drying from the evening before.
In 1952, Lord Edward Montagu opened Palace House and Gardens to the public for the first time – making Beaulieu among the first 'stately homes' to admit visitors. For the grand opening, he displayed five Veteran cars in the entrance hall of the house as a tribute to his late father, John Douglas-Scott-Montagu, who was a motoring advocate and pioneer at the turn of the last century.

From these humble beginnings, encouraged by a new public interest in motoring heritage, the Montagu Motor Museum would develop. Supported by the British motor industry and enthusiasts, the museum continued its expansion, becoming the National Motor Museum in 1972.

Since 1972, the National Motor Museum has been governed by The National Motor Museum Trust, an independent charity. It boasts a world famous collection of vehicles and associated motoring archives.

Today, Beaulieu is one of the leading visitor attractions in the UK, a member of Visit England, Tourism South East, Hampshire Top Attractions, Treasure Houses of England and the Historic Houses Association.
There are several innovative vehicles and vessels on permanent display at Herstmonceux Museum, including:
1. Art Gallery - Collection of paintings, pictures, graphics, sculptures, wooden carvings & exotic glassware
2. Archives - Historic documents library, patents, trademarks, copyright, films, catalogued legal papers & letters
3. An Edwardian ice well, throwback to the days before refrigeration
4. A large underground (condensation/cooling) and water storage chamber for ice making
5. The world's smallest water basin, test tank for model boats & ships to 1:20 scale
6. World's smallest wind tunnel, vehicle drag measuring instrument using electronic strain-gauges
7. Three PV boat models, Navigator, SWATH & 2 cats + route map prior to Swiss PlanetSolar
8. Seavax, the ocean cleanup proof of concept prototype from 2016
9. AmphiMax, radio controlled (working) beach launching & recovery vehicle for SeaVax
10. Anthony the most dangerous giant Australian bulldog ant, 300 times normal size
11. EV - FCEV refueling station model in 1:20 scale
12. The only working (fully functional) water well in Herstmonceux village
13. The fountain of youth, supplied from natural well water drawn on site
14. Second World War, 'Anderson Inspired,' bomb proof shelter constructed by Major Charles de Roemer
15. City sports FCEV-BEV, hydrogen gull wing proof of concept DC50 electric car
16. Land speed record car: Bluebird-Electric BE1 (original 1st) with battery cartridge exchange
17. Land speed record car: Bluebird-Electric BE2 (original 2nd) with cartridge exchange
18. A complete mummified squirrel, found when re-roofing the Museum June 2017
19. A fully operational, and restored VW Kombi van dating from 1978 (historic vehicle)
20. BMW i3, battery electric vehicle hybrid, with onboard generator range extender
21. Solar panel, sun tracking system, with battery storage
22. A hornet's nest found on site & preserved in 2016 (reported as [Asian] invasive species, to be safe)
23. Three sewing machines, including an antique Singer and a Brother industrial.
24. Adventure climbing frames for children (back to nature) Swiss Family Robinson
25. 'Elizabeth Swann' proof of concept model 1:20 scale hydrogen powered trimaran
26. Holm oaks, planting and growing trees from acorns on site, re-wilding in Sussex