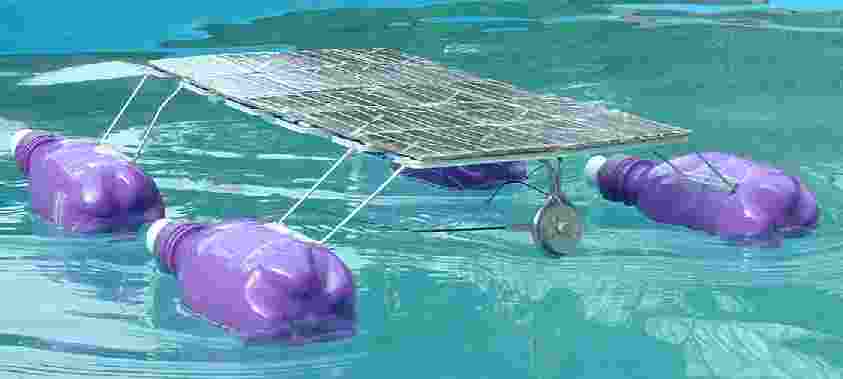 BUDGET EXPERIMENT - This is a very simple test rig that took just a few minutes to make by bending some ally welding wire, and hot gluing to four empty soda-pop bottles. And it worked amazingly well. Though no controls of any sort. Just point and go. Great for children (and teachers), who want to try it for themselves, for under £10. And are in a hurry.
There followed two more conventional catamaran designs. The last of which had four wind turbines, that changed angle and revolved to face into the prevailing wind, while solar wings with PV panels, could also change their angle of incidence, to face the sun. All of these models were radio controlled, with good performances, and incremental hull speed increases.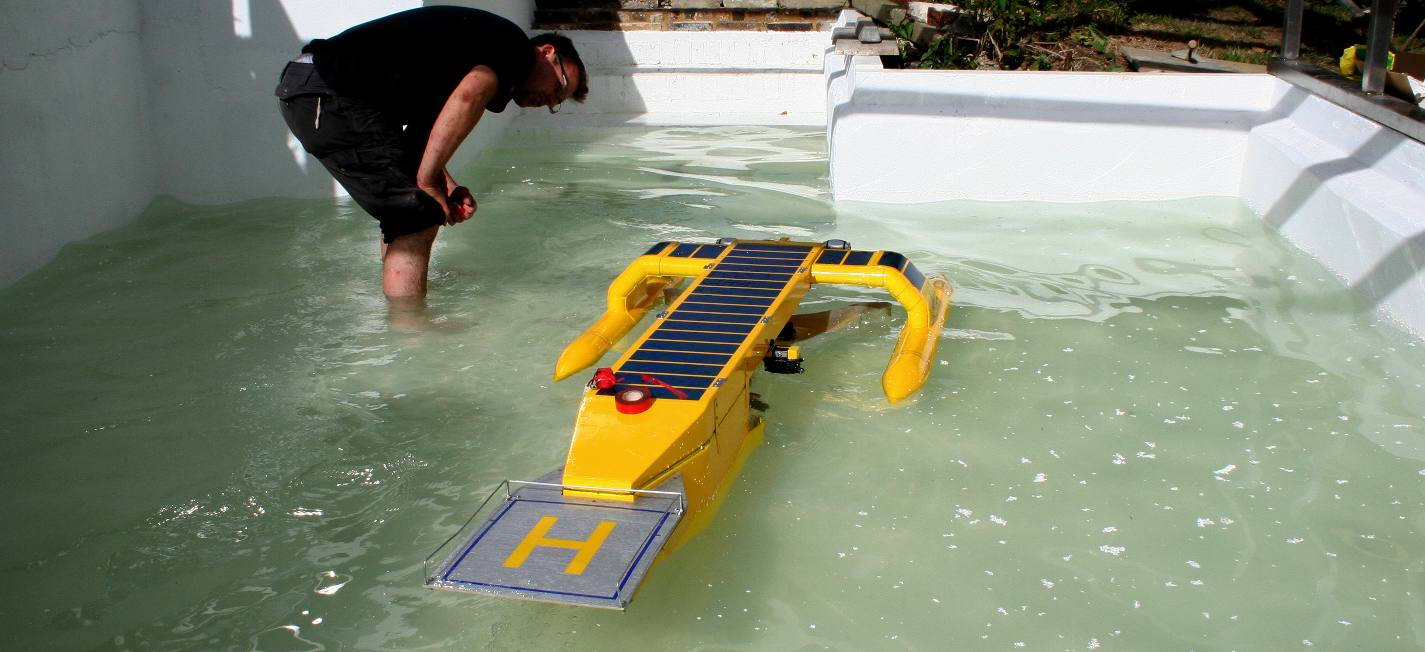 SEAVAX - This famous ocean plastic cleaning concept, owes quite a bit to the original SolarNavigator designs. Though not intended for speed. This is more of a workhorse, or as one visitor to an exhibition stand in Hastings said: It's an "ocean going dustbin." We liked that description.
The SolarNavigator series of boats, in part, inspired Raphael Domjan to build the Turanor PlanetSolar, the Swiss ship that set the first sun powered circumnavigation record in May of 2012, with the generous backing of Immo Stroeher..
Historically speaking, the first and original world record contender, was a SWATH design of just 50 feet in length. SWATH stands for: Small Waterplane Area Twin Hull. What that means is that the vessel has two hulls like a catamaran, but that the hulls are submerged, like two submarines running side by side, underwater.
[LEFT] R/C Servo switching forward-off-reverse for the four pumps seen on the [RIGHT] The hull had four water tanks, that could be flooded and drained, to control ride height and pitch. All of these controls were built into the superstructure of the MKI SolarNavigator.
You may think that such a design is quite complex, and way more expensive to build than a boat that just floats on top of the waves. And you'd be right. So why go to all those lengths?
The answer, was (then) to reduce hull resistance and wave drag. At least that was the theory. Twin submerged hulls means the vessel is not subject to motoring up, and then riding down the crests of large waves. Allowing a smaller ship to cut through the water while remaining horizontal, rather than bob up and down, which wastes a lot of energy. And on a solar powered ship, there is a limited amount of energy to play with. Although the design was well received in naval architect offices, with the offer of build by a well known MOD supplier. It was not proceeded with, simply because it would have been cheaper to use longer surface hulls, giving an improved hull: speed-length-ratio.
TREASURE CHEST - Old old steel framed office desk, was converted into a treasure chest display, with built in motor drive, so that the model slowly turned at exhibitions. You can just make out a circle of micro-switches around the central spindle. These switches were controlled by a camshaft to illuminated a large map of the world. So that visitors could see the route of the proposed world navigation challenge. When you look at some of the exhibits on display at the Museum, the intricacies of the vehicles will not be immediately obvious.
The SWATH design could alter the ride height of the model, and attitude. Just like a submarine. The hulls could be made to glide underwater at variable depth, to counter wave height and sea state. This was achieved with a series of pumps, using two radio control sets and three servos. While speed and direction was achieved using variable track mixers, and two variable speed controllers. There were no rudders. Being unnecessary, and causing extra drag. Though many sailors do not like that idea. Should one hull motor fail, there would be no steerage.
The second in the series of SolarNavigator ships, was almost twice the hull length, a surface catamaran with solar panels over the helm, that was quite unconventionally, slung underneath the array of solar panels. But at least there was an open deck to the rear, for sailors who like to feel the sea breeze.
Having longer hulls, tends to reduce the wave drag, and cresting/diving, as in smaller boats. Using ordinary surface hulls, makes a build considerably more economical. Also, the load carrying capacity is not so finely tuned, with better reserve buoyancy. Good news when overloading, as happens from time to time.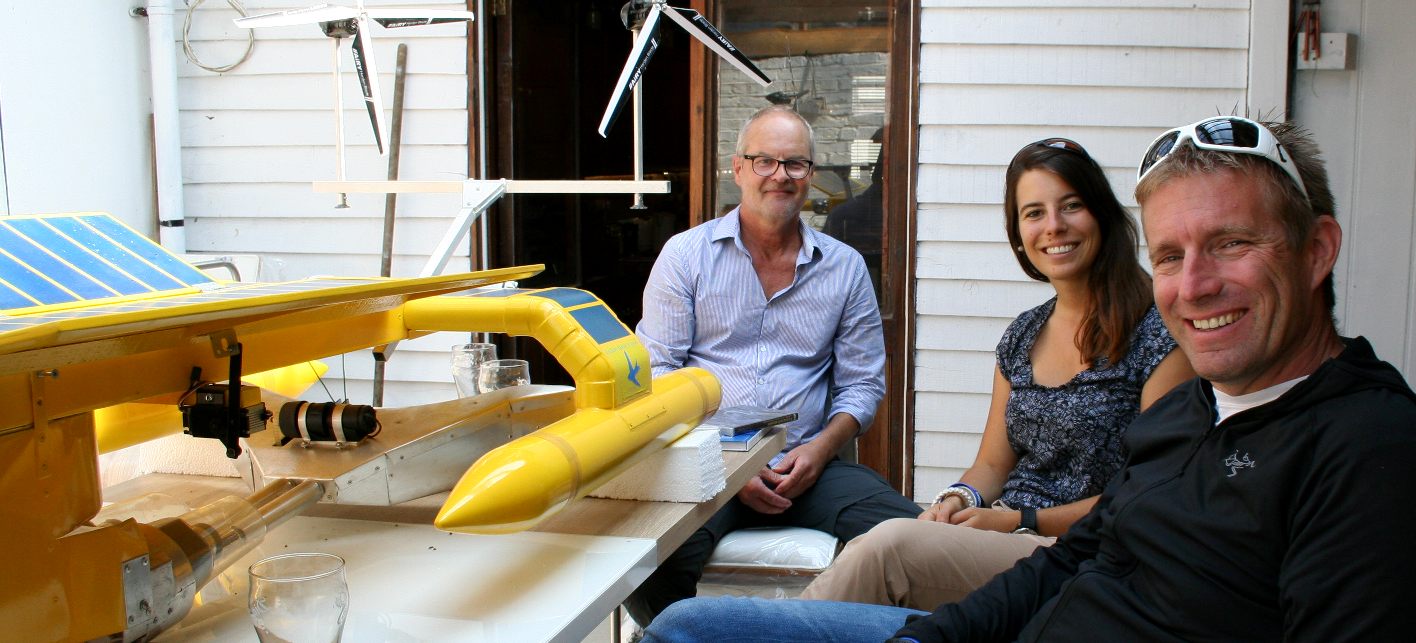 SOLAR PIONEERS - Stephane Chopard & Raphaelle Javet (communications) and Raphael Domjan (pilot) on a visit to Herstmonceux Museum in August 2017. Raphael's Turanor PlanetSolar project set the benchmark when it comes to solar powered zero carbon transport.
Then somebody had the bright idea to hang wind turbines off the back of a vessel. To turn the vessel into what is known as a rotary sailing craft. Where the wind turbines act like revolving sails. A bit like a windmill on water.