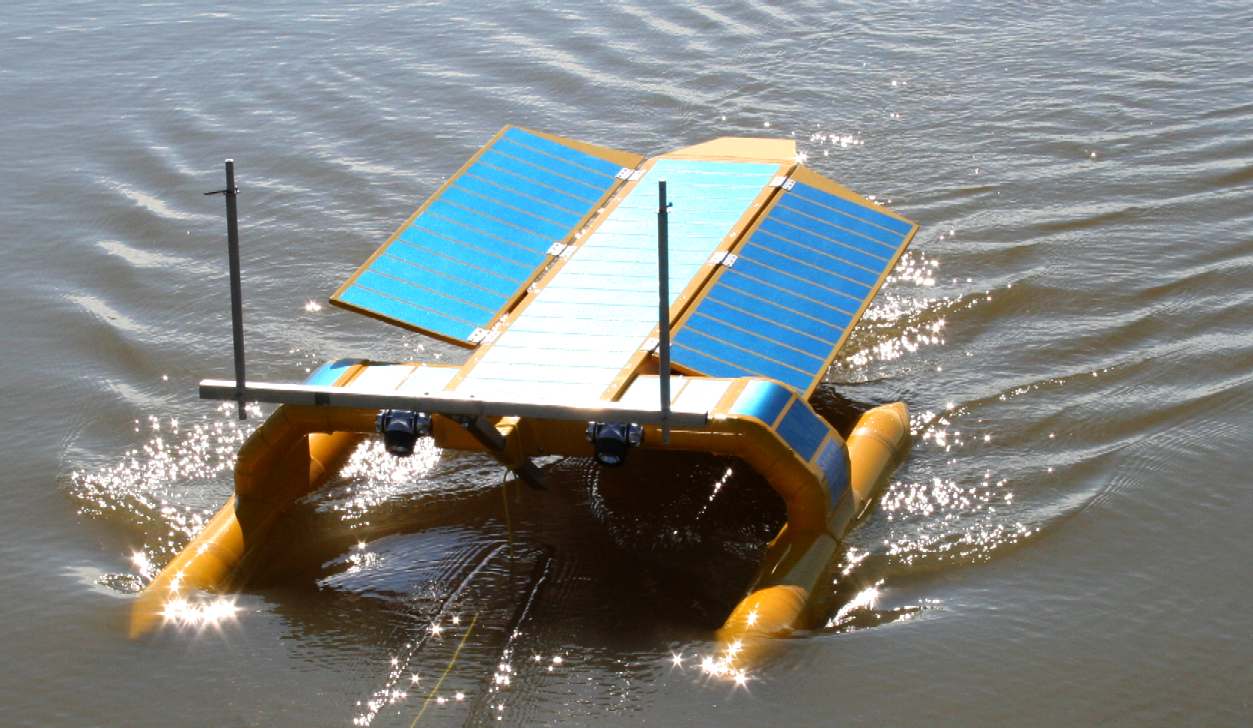 SEAVAX - in open water trials, with no plastic to scoop, but she floated just right, according to calculations.
Not in any way connected with the generating history of Herstmonceux Museum, but powered by electricity, harvested as natural energy from the sun. This project followed the Gull-Wing hydrogen powered sports car, using the garages at the Museum. Mainly because the team who helped build the DC50, were largely conservationists, and could not help but wonder if a SolarNavigator 'inspired' design, might be adapted to tackling the plastic menace.
The SeaVax is a cherished exhibit, sometimes loaned out for events and talks, always returned to a dedicated ocean plastic display at Herstmonceux Museum, as part of the technology trail.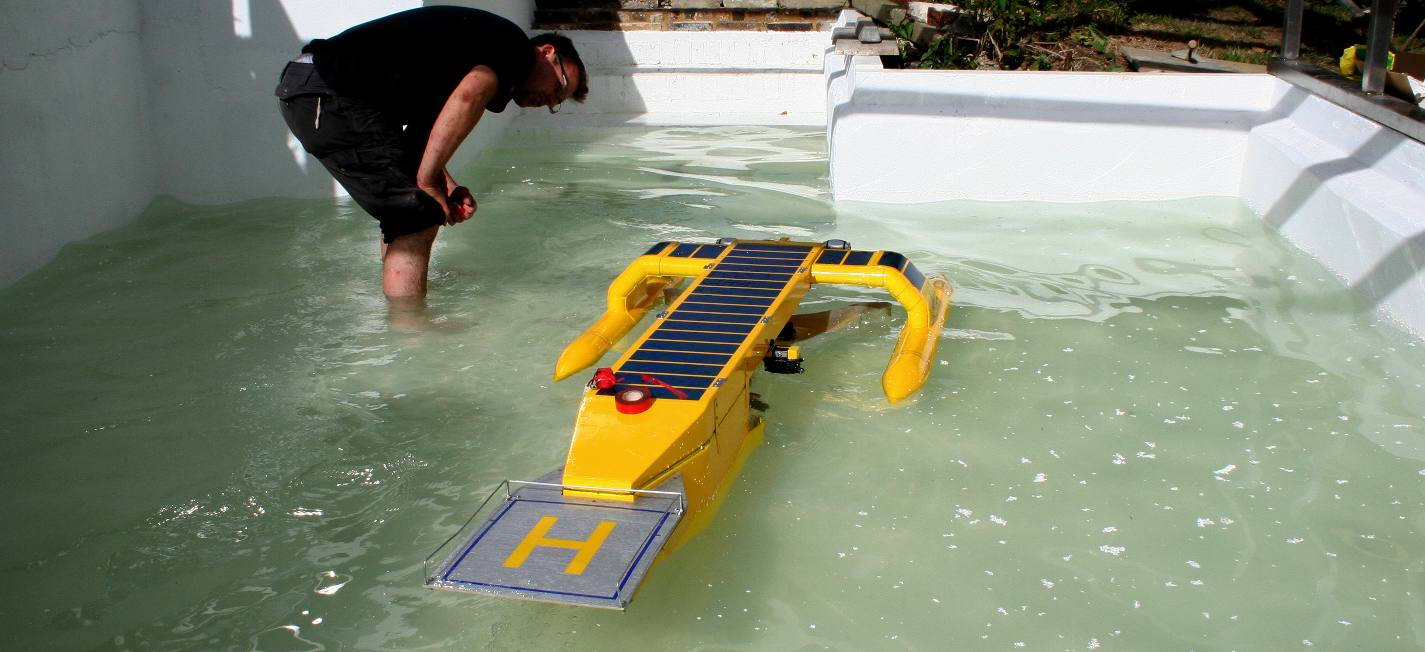 TANK TESTING - This water basin was especially constructed to one side of the Generating Works. The tank was filled with well water and plastic debris scattered to simulate ocean waste, then the pumps and filters were switched on. In the space of a few minutes, the tank was clear of flotsam. The Concept worked!
Quite obviously, the SeaVax looks nothing like any of the SolarNavigator proof of concept boats, nor PlanetSolar, the Swiss ship that set the first sun powered circumnavigation record in 2012.
The 'team' got their thinking caps on, with Chris Close as project director, and soon had ideas that were worth pursuing. Fortunately, their onboard technician was adept at building proof of concept machines, deftly forming aluminium sheet, timber and even the dreaded plastic, into the machine that proved the concept worked, back in 2016.
The team had a very short window of opportunity, some going out on a personal financial limb - as volunteers. Eventually, after five long years of lobbying, they were forced to pull the plug, facing financial ruin. They, had though proved the concept worked in principle, should other teams find the political and funding landscape more risk friendly, and pick up the gauntlet where the original SeaVax team left off.
The real problem is generating sufficient political will, to want to tackle the carcinogenic threat to ocean ecology and human society, lurking beneath the waves. As the top of the food chain, biomagnification is sure to impinge on human health. At which point, like cigarettes, seafood might have to carry a government health warning. Unlikely, since petrol and diesel engine particulates are just as harmful, but no government mentions that to buyers, when they buy a new car. Even today, some shellfish cannot be harvested or eaten, it is so polluted with micro plastics.
In 2023, plastic is still a menace, according to several reports, including those of the United Nations, claiming that waste disposal, as dumping from rivers into the ocean will double. There will be more plastic in the sea than fish. It's an extraordinary situation, with few actors looking to invest in cleaning up the existing mess, or even swapping polyolefin's for biodegradable substitutes. Thus, threatening safe seafood supplies.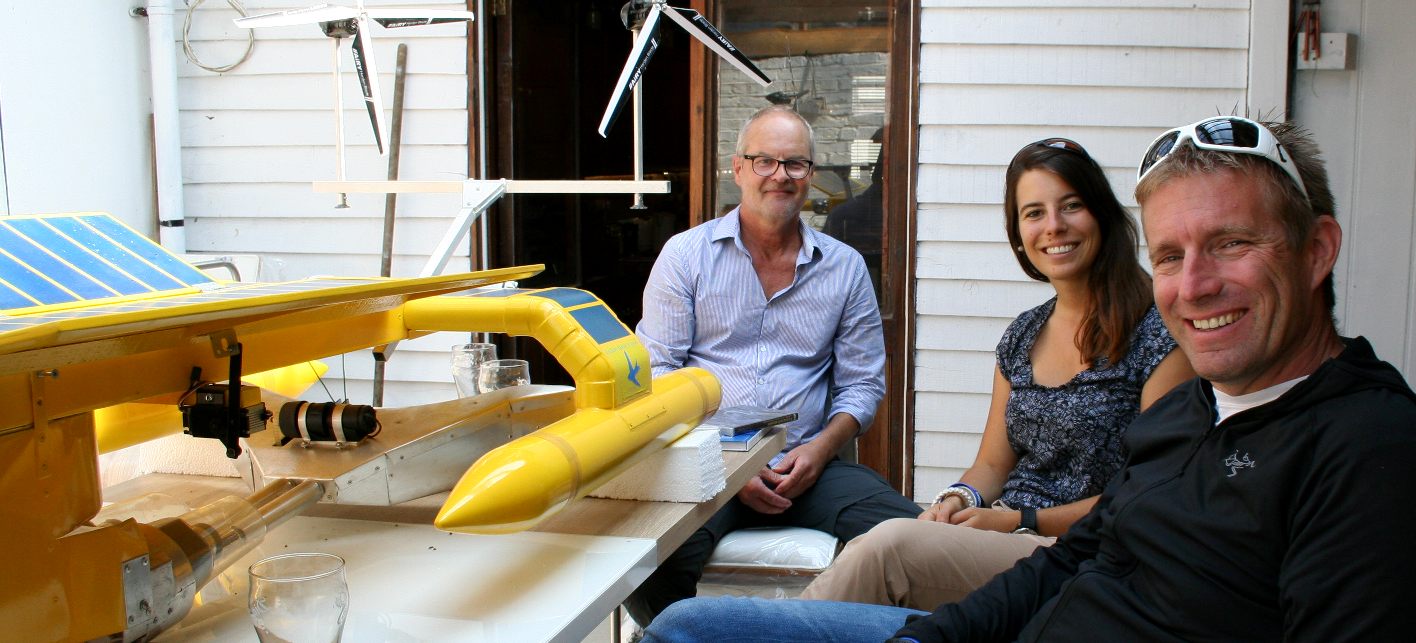 SOLAR PIONEERS - Stephane Chopard & Raphaelle Javet (communications) and Raphael Domjan (pilot) on a visit to Herstmonceux Museum in August 2017. Raphael's Turanor PlanetSolar project set the benchmark when it comes to solar powered zero carbon transport.
The SeaVax team generously gave five years of their lives, to show world leaders that there are ways of combating the problem, and maybe one day, we'll see artificially intelligent, energy autonomous machines like this, skimming the ocean waves clean of detritous, and an outright ban on single use packaging. Plastic products that are recycled responsibly, are perfectly acceptable, do not think otherwise. We are not plasti-phobic, just sensibly precautious. Our society depends on engineering and medical plastics.
There are several innovative vehicles and vessels on permanent display at Herstmonceux Museum, including:
1. Art Gallery - Collection of paintings, pictures, graphics, sculptures, wooden carvings & exotic glassware
2. Archives - Historic documents library, patents, trademarks, copyright, films, catalogued legal papers & letters
3. An Edwardian ice well, throwback to the days before refrigeration
4. A large underground (condensation/cooling) and water storage chamber for ice making
5. The world's smallest water basin, test tank for model boats & ships to 1:20 scale
6. World's smallest wind tunnel, vehicle drag measuring instrument using electronic strain-gauges
7. Three PV boat models, Navigator, SWATH & 2 cats + route map prior to Swiss PlanetSolar
8. Seavax, the ocean cleanup proof of concept prototype from 2016
9. AmphiMax, radio controlled (working) beach launching & recovery vehicle for SeaVax
10. Anthony the most dangerous giant Australian bulldog ant, 300 times normal size
11. EV - FCEV refueling station model in 1:20 scale
12. The only working (fully functional) water well in Herstmonceux village
13. The fountain of youth, supplied from natural well water drawn on site
14. Second World War, 'Anderson Inspired,' bomb proof shelter constructed by Major Charles de Roemer
15. City sports FCEV-BEV, hydrogen gull wing proof of concept DC50 electric car
16. Land speed record car: Bluebird-Electric BE1 (original 1st) with battery cartridge exchange
17. Land speed record car: Bluebird-Electric BE2 (original 2nd) with cartridge exchange
18. A complete mummified squirrel, found when re-roofing the Museum June 2017
19. A fully operational, and restored VW Kombi van dating from 1978 (historic vehicle)
20. BMW i3, battery electric vehicle hybrid, with onboard generator range extender
21. Solar panel, sun tracking system, with battery storage
22. A hornet's nest found on site & preserved in 2016 (reported as [Asian] invasive species, to be safe)
23. Three sewing machines, including an antique Singer and a Brother industrial.
24. Adventure climbing frames for children (back to nature) Swiss Family Robinson
25. 'Elizabeth Swann' proof of concept model 1:20 scale hydrogen powered trimaran
26. Holm oaks, planting and growing trees from acorns on site, re-wilding in Sussex