The trials and tribulations of dyed in the wool conservationists and innovators
The Document Archive at Herstmonceux Museum is a library of Historic documents, patent & trademark applications & certificates, copyright relating to books and scripts, film reference, catalogued legal papers & personal letters, including diaries.
All of these documents, relate to the heritage asset, persons or corporations, who at some stage occupied and operated from within or very close to the electricity generating buildings and battery store. Many of which documents have been stolen to order by State sanctioned agencies over the years, and others deleted from local records, to prevent the recording of events, and researchers from finding out the truth about how local authorities obviate their duties under the World Heritage Convention. And, this is not China, North Korea, Russia, or Germany during the Second World War. This is the United Kingdom, a signatory to the Universal Declaration of Human Rights, where the European Communities Act of 1972 was statute at those times (now repealed due to Brexit) and the Human Rights Act 1998 is UK law designed to prevent such invasive abuses.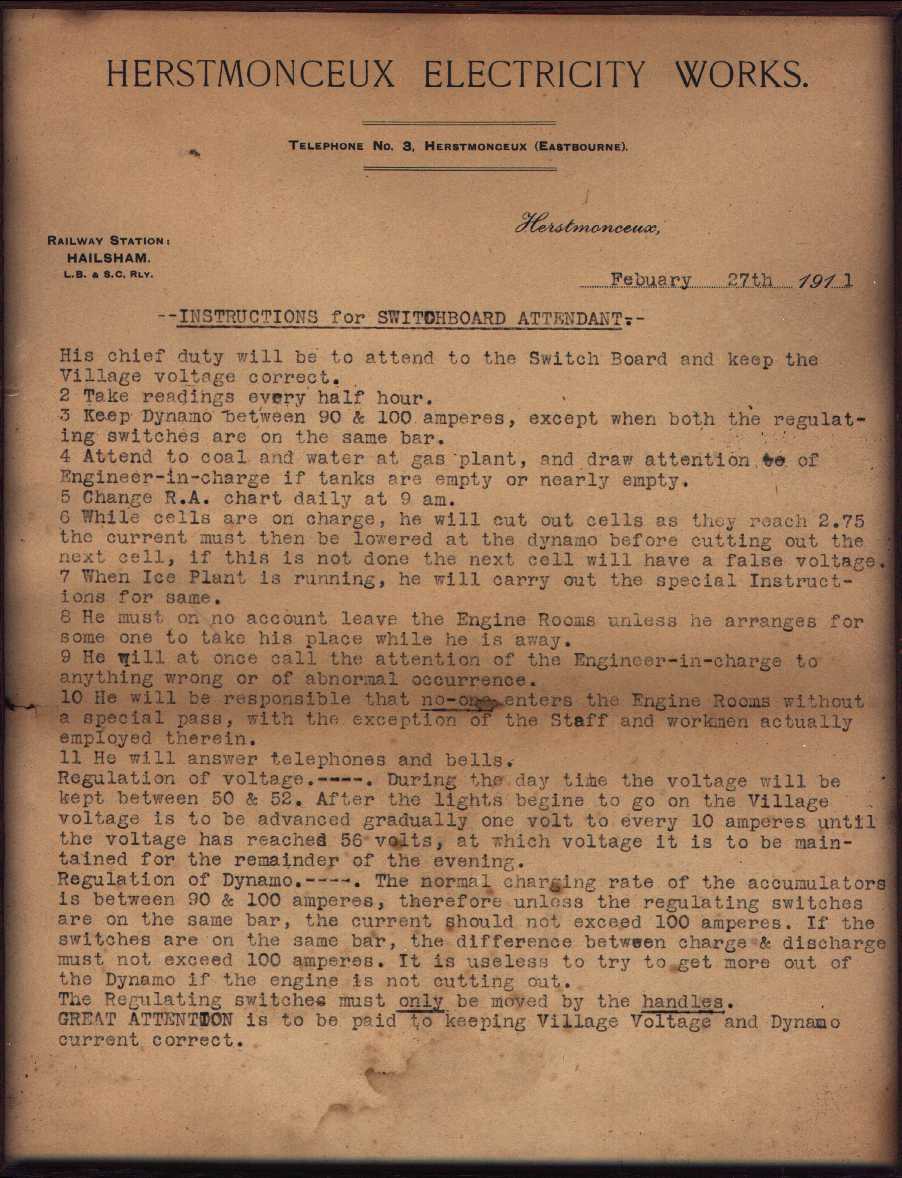 A very important historic document was gifted to the Museum, as valuable reference for historians
In addition to the archaeology contained in the structure of the extant generating building, together with original switches and other electrical apparatus, much of which was excavated on site, there are several innovative vehicles and vessels on permanent display at Herstmonceux Museum, an Art Gallery and a Library archive, including:
1. Art Gallery - Collection of paintings, pictures, graphics, sculptures, wooden carvings & exotic glassware
2. Archives - Historic documents library, patents, trademarks, copyright, films, catalogued legal papers & letters
3. An Edwardian ice well, throwback to the days before refrigeration
4. A large underground (condensation/cooling) and water storage chamber for ice making
5. The world's smallest water basin, test tank for model boats & ships to 1:20 scale
6. World's smallest wind tunnel, vehicle drag measuring instrument using electronic strain-gauges
7. Three PV boat models, Navigator, SWATH & 2 cats + route map prior to Swiss PlanetSolar
8. Seavax, the ocean cleanup proof of concept prototype from 2016
9. AmphiMax, radio controlled (working) beach launching & recovery vehicle for SeaVax
10. Anthony the most dangerous giant Australian bulldog ant, 300 times normal size
11. EV - FCEV refueling station model in 1:20 scale
12. The only working (fully functional) water well in Herstmonceux village
13. The fountain of youth, supplied from natural well water drawn on site
14. Second World War, 'Anderson Inspired,' bomb proof shelter constructed by Major Charles de Roemer
15. City sports FCEV-BEV, hydrogen gull wing proof of concept DC50 electric car
16. Land speed record car: Bluebird-Electric BE1 (original 1st) with battery cartridge exchange
17. Land speed record car: Bluebird-Electric BE2 (original 2nd) with cartridge exchange
18. A complete mummified squirrel, found when re-roofing the Museum June 2017
19. A fully operational, and restored VW Kombi van dating from 1978 (historic vehicle)
20. BMW i3, battery electric vehicle hybrid, with onboard generator range extender
21. Solar panel, sun tracking system, with battery storage
22. A hornet's nest found on site & preserved in 2016 (reported as [Asian] invasive species, to be safe)
23. Three sewing machines, including an antique Singer and a Brother industrial.
24. Adventure climbing frames for children (back to nature) Swiss Family Robinson
25. 'Elizabeth Swann' proof of concept model 1:20 scale hydrogen powered trimaran
26. Holm oaks, planting and growing trees from acorns on site, re-wilding in Sussex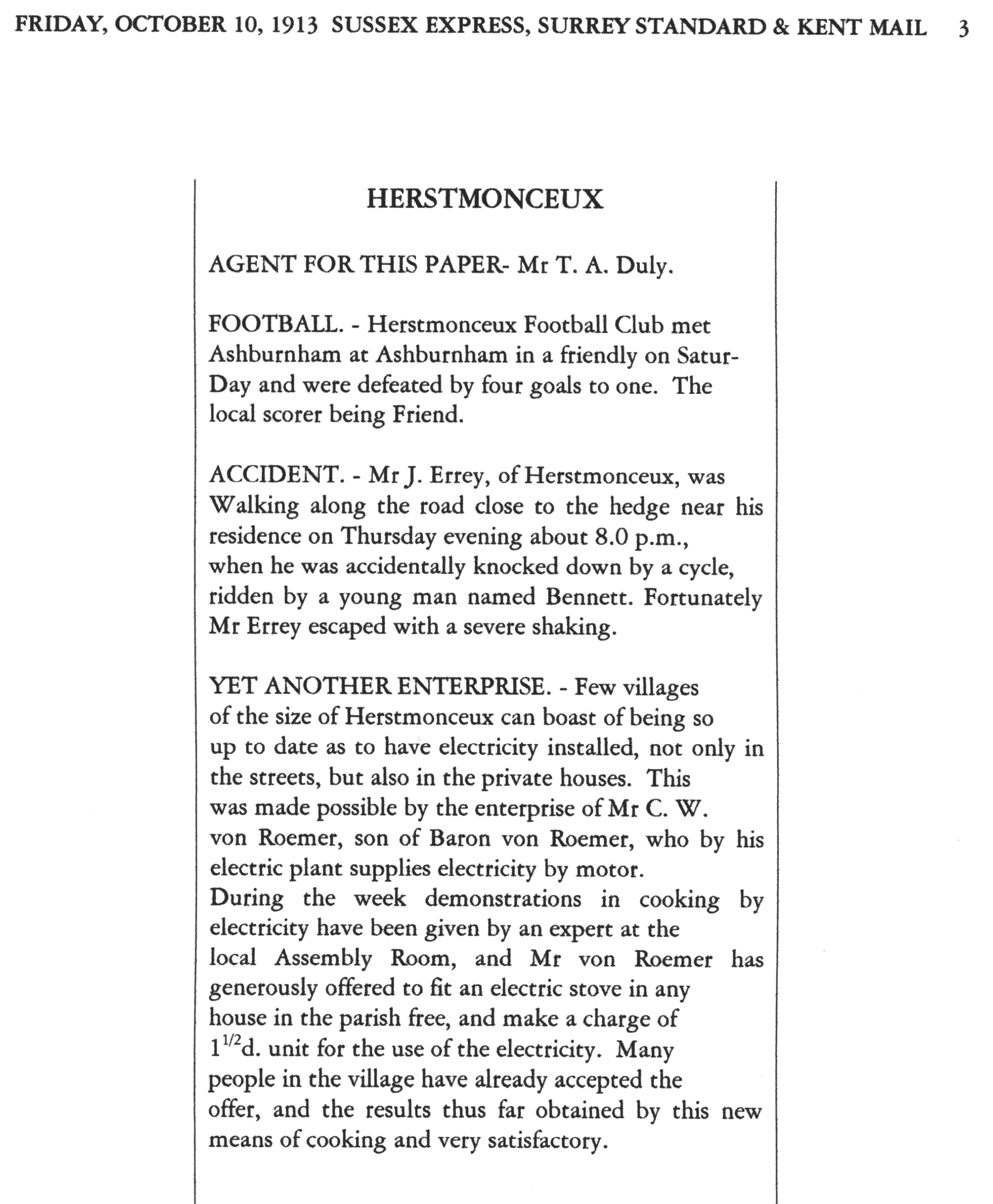 Newspaper clipping from the Archive, at The Maltings in Lewes. YET ANOTHER ENTERPRISE - Few villages of the size of Herstmonceux can boast of being so up to date as to have electricity installed, not only in the streets, but also in the private house. This was made possible by the enterprise of Mr C. W. von Roemer, son of Baron von Roemer, who by his electric plant supplies electricity by motor. During the week demonstrations in cooking by electricity have been given by an expert at the local Assembly Room, and Mr von Roemer has generously offered to fit an electric stove in any house in the parish free, and make a charge of 1 1/2d. unit for the use of the electricity. Many people in the village have already accepted the offer, and the results thus far obtained by this new means of cooking and [are] very satisfactory.
We hope that this Archive might serve as reference for generations of historians to come, to be able to write on the subject matter, appreciate the circuitous nature of local and national governments, that interested persons and time team investigators that follow will know about the persecutions and struggles that accompany those who strive to conserve our heritage assets for the enjoyment of your children and for posterity, in their attempts to profit personally by control of the land, or avoid the implications of denying their obligations under the World Heritage Convention.
Having suffered documentary losses as described, the Archive will be made available for publishing online, and will be lodged with the British and other Libraries, for copyright and security purposes. As per the British Library Act 1972. We believe it is in the public interest to protect and lodge these valuable insights, for the guidance of policy makers of a future sustainable world, aimed at circular economies and transparency of institutions, that will thus be stronger, benefiting from accurate records, rather than a rinsed or whitewashed version of events, designed to spin a different story. See United Nations SDG 16 and SDG 17.